Short answer items in Scorpion can be used to present a question that can be answered with a written response.
Example: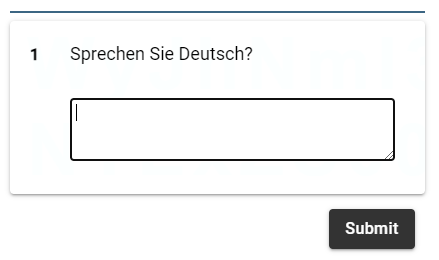 Short Answer Settings
Points- This is the amount of points that can be earned for the item.
Scoring Method- There are three options for scoring method:
Default- The item will be automatically scored. If the item has multiple correct options, and they are not all selected, then the item will be incorrect.
Manual- The item will have to be manually scored.
Weighted- This allows you to set how much credit will be received for specific correct options if the item is only partially correct.
Method- This determines how the written response given will be correct or not.
Exact- The response must be case sensitive.
Ignore Case- The response doesn't need to be case sensitive.
Regular Expression- The response will be determined via a regular expression.
Enemies- This is where you can select enemy items. Enemy items are typically items that give the answer to this item. Enemies are used in form making.