Forms are divided into two sections, Content and Settings. Settings control which configuration the form has. The configuration controls the Exam Rules, Global Exam Timer, Exam Instructions, Security Options, Scoring, Content Areas and Cutscores. Configurations can be used on multiple Forms. Forms have the sections with items, section instructions, item order, number of items per page and section time limits. On the Forms page you will now see two tabs, Content and Configurations. Content tabs lets you edit the content of the exam and the Settings tab lets you choose configuration and edit the configuration. below you will find a detailed explanation of each setting.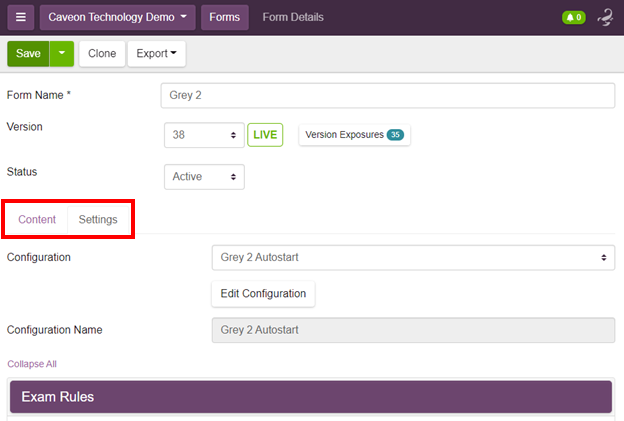 Exam Rules
Proctor Code- the proctor code is a password that allows the proctor to proctor level changes on the examinee side.
Exam Time Limit (seconds)- This is a time limit for the whole exam. The examinee will be force out of the exam if the time limit is reached.
Exam Mode- There are two exam modes that can be chosen, linear or adaptive. Linear has all of the items presented in order. Adaptive presents the items in a random order.
End the test early when a passing or failing score is determined- If this setting is enabled, once the examinee as passed or failed an exam, the exam will end for the examinee and no further items will be presented.
Enable section timers and navigation- This will enable the section timers set in the content area of a form.
Allow users to pause and resume their own exam- This will allow an examinee to pause the timer on the exam they are taking.
Show item feedback after each page- Item feedback, if present, will be shown to the examinee after each page.
Exam Instructions
Instructions- Instructions can be entered into this text field and they will be presented when the examinee begins the exam.
Below there are guides for the following topics:
How to Add a Configuration to a Form
How to Change Configuration Settings per Delivery in Scorpion