About Proctor Tools
Scorpion's proctor tools are a powerful way to manage an exam remotely or in person. The tools include the ability to pause and resume a test, as well as suspend a test so that a new launch token must be obtained. The remote proctor tools also include an event log that includes both events and warnings.
In exam proctor tools
During an exam where the proctor is physically present, a test may have proctor tools available on the exam screen. The tools are password protected. This scenario is typical of a workshop or other low stakes testing environment.
Remote proctor tools
When the proctor is not physically present, a secured proctor tools panel can be accesses from SEI. The tools can only be accessed through the use of a secure token and the tools are linked specifically to one test taker at a time. When using the remote tools, the proctor will receive time stamped live events from the test takers perspective. These are in addition to the pause, resume and suspend actions.

Proctor events
Events
Events are non suspicious actions that are taken by the examinee or test management actions taken by the proctor.
Exam Launched
Exam Complete
Page Complete
Exam Paused
Exam Resumed
Warnings
Warnings are events occurring in the test taker's browser that the proctor might want to know about. It also gives suspicious information about the browser itself.
Alt, Ctrl, Cmd keys pressed. These are keys often associated with screen shots
Browser resized. This includes opening browser consoles and inspectors
Browser not maximized.
Exam in background. This is when a user has changed tabs or applications
Context menu attempt. This detects and prevents right-clicking
Mouse moved outside browser window
Accessing Proctoring Tools
1. Click on the drop down arrow in the upper right hand corner of the screen after accessing the project you would like to proctor. Click on settings.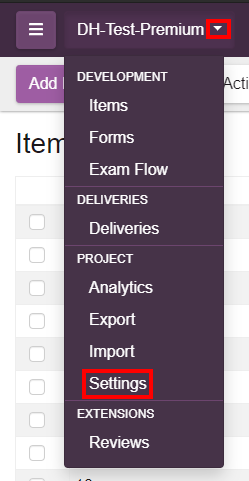 2. Click on the Delivery Settings tab.

Here you can adjust what information is gathered from the examinee.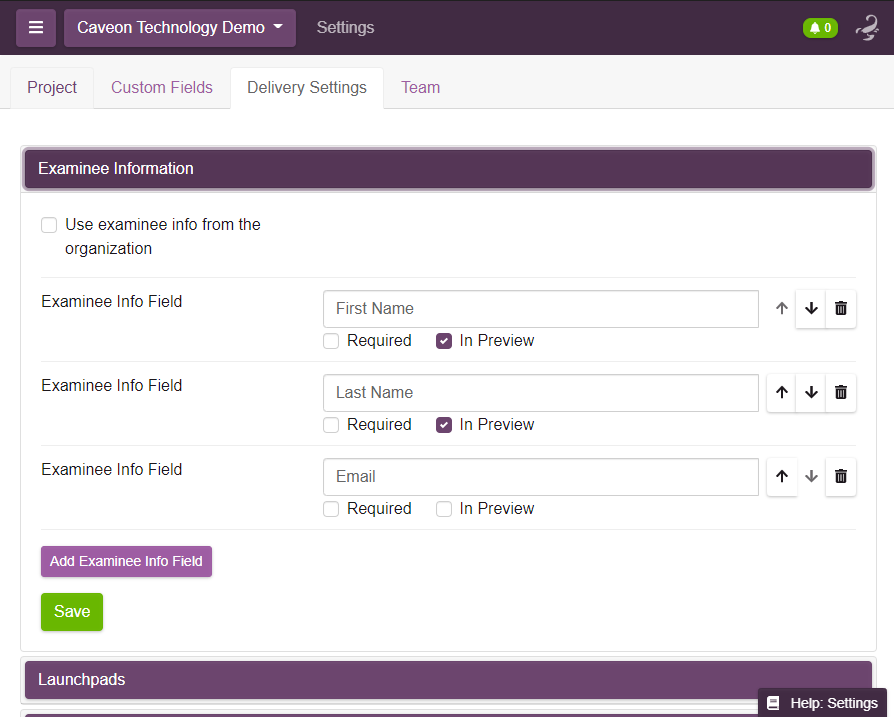 3. Click on the Bulk Proctor section to see the Proctor tools.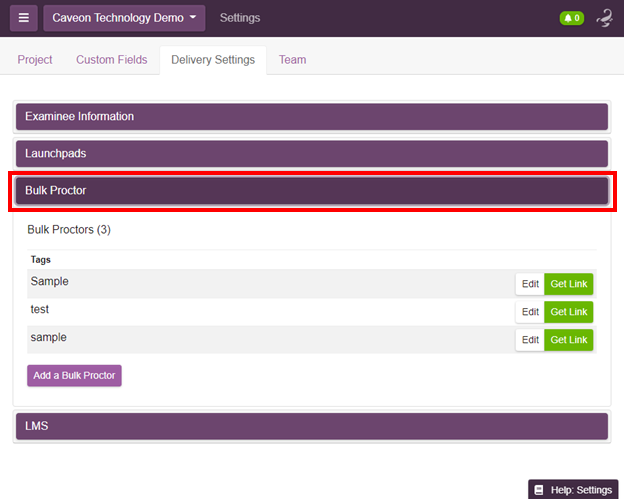 Here you can make the proctor links and launch the links.